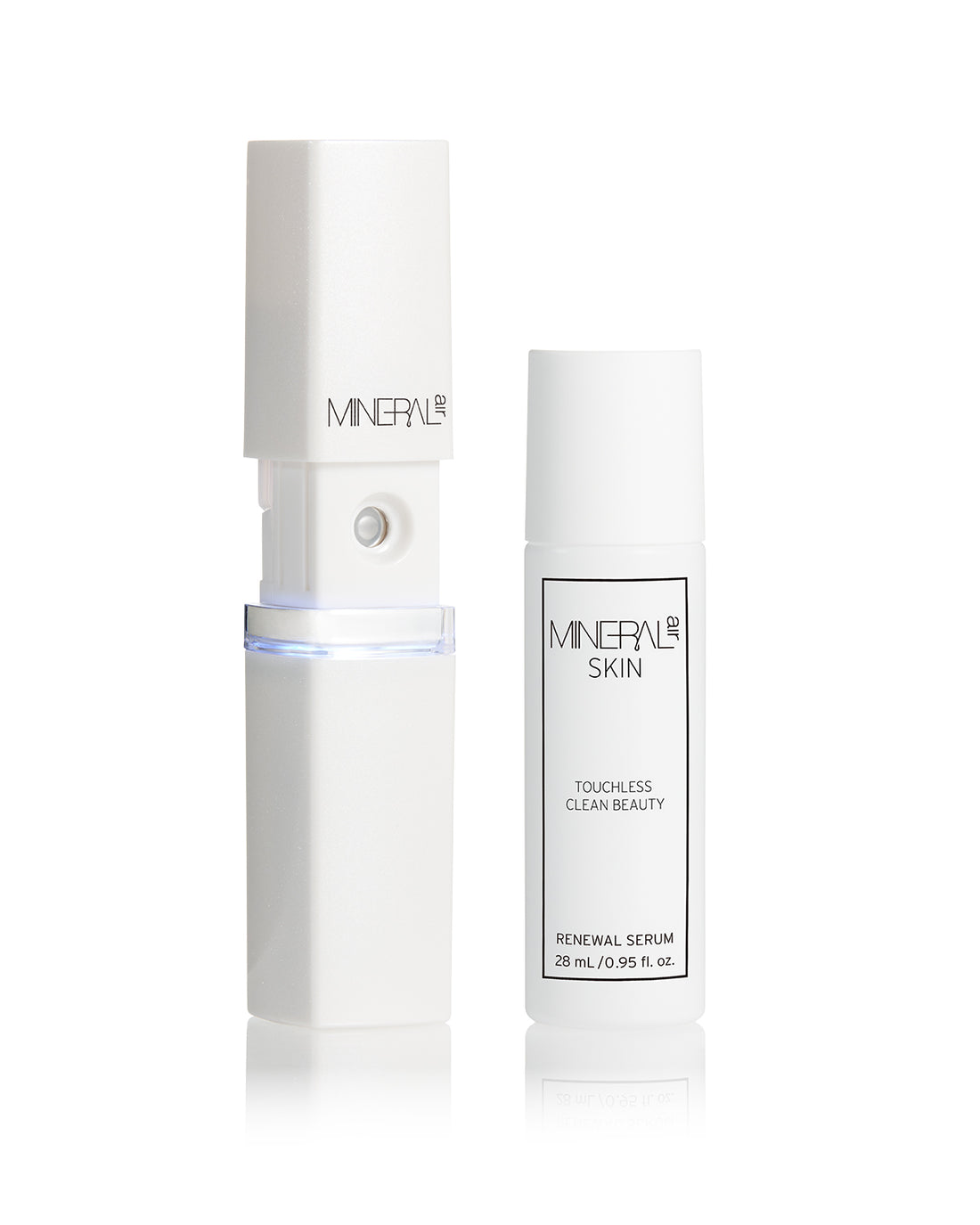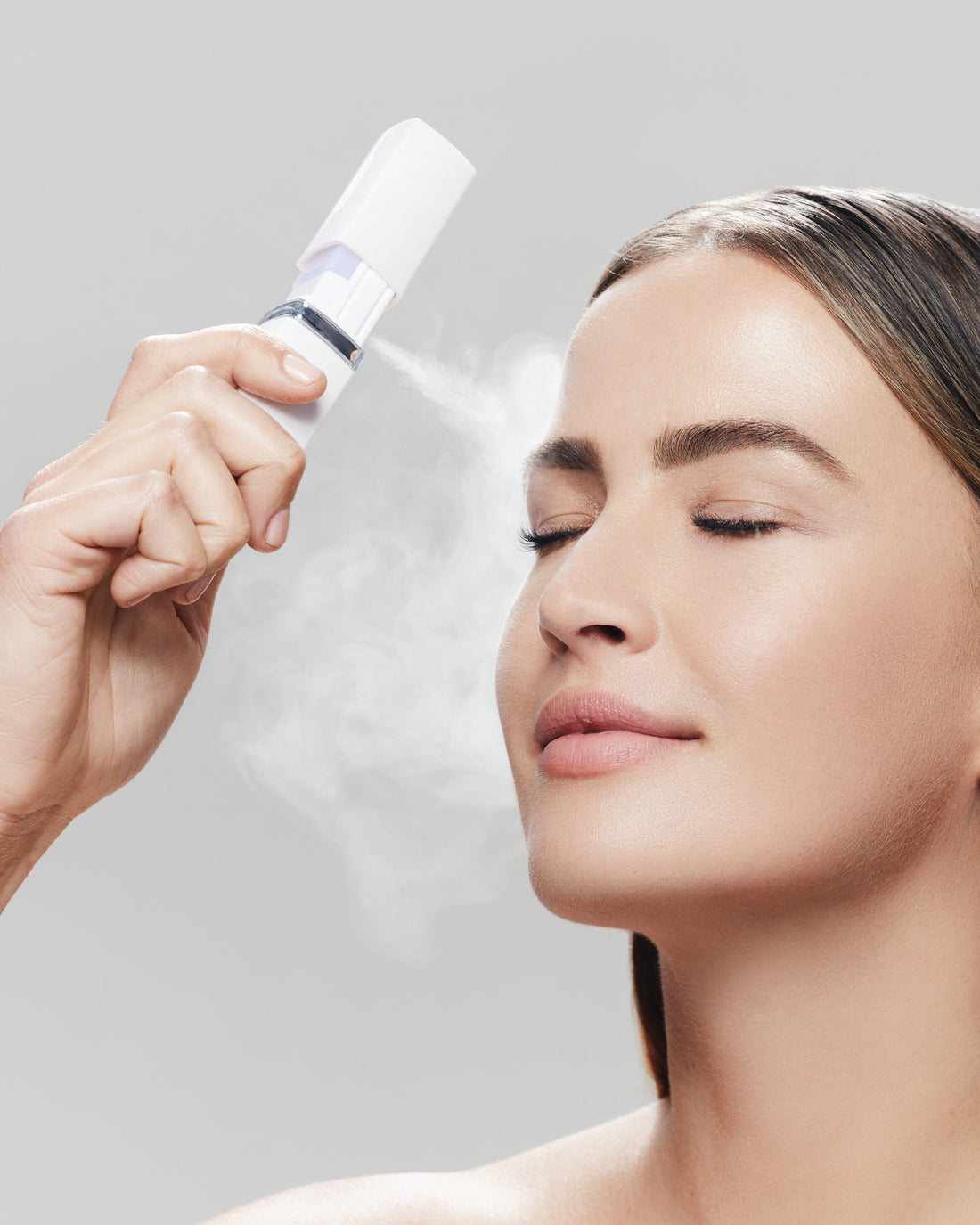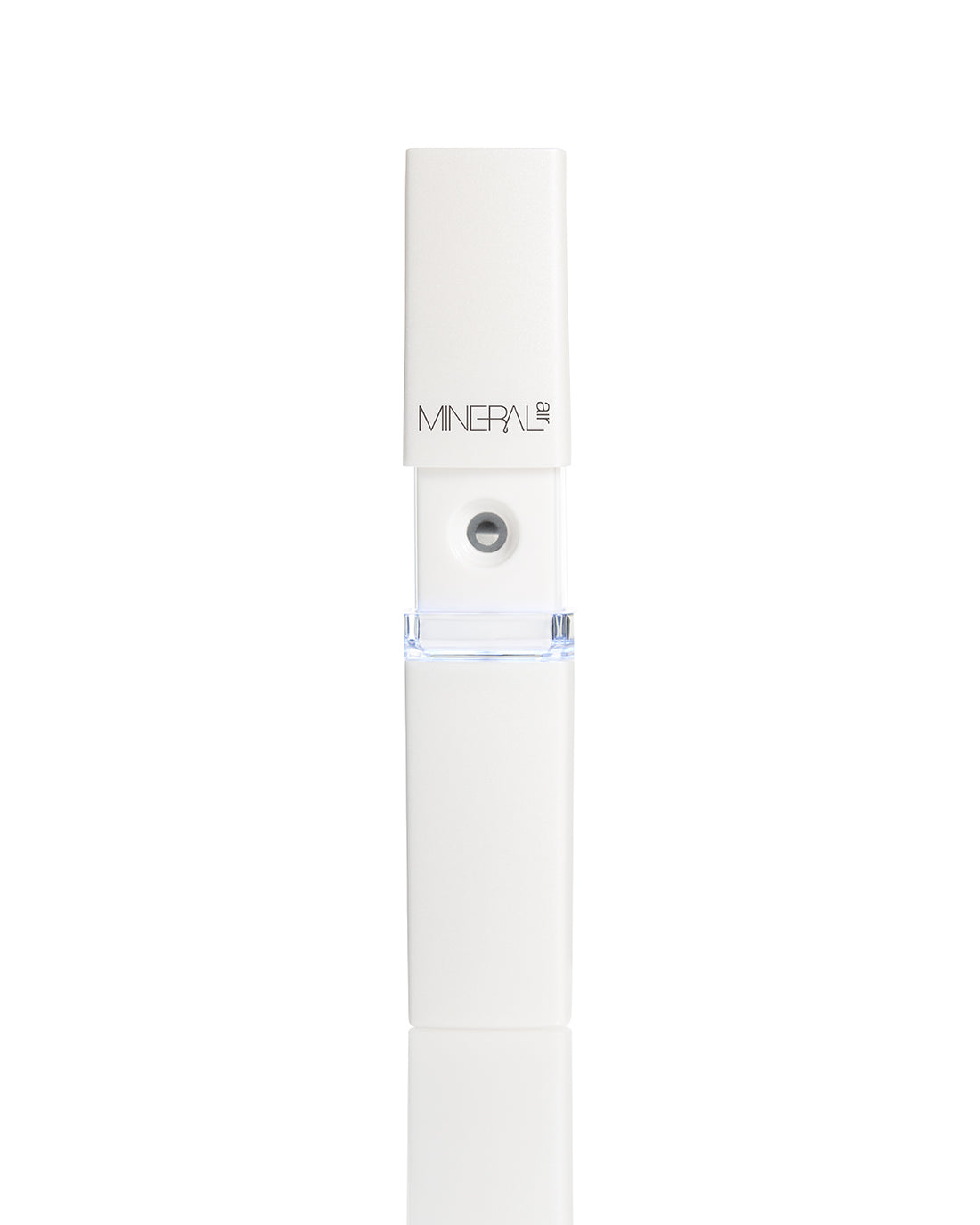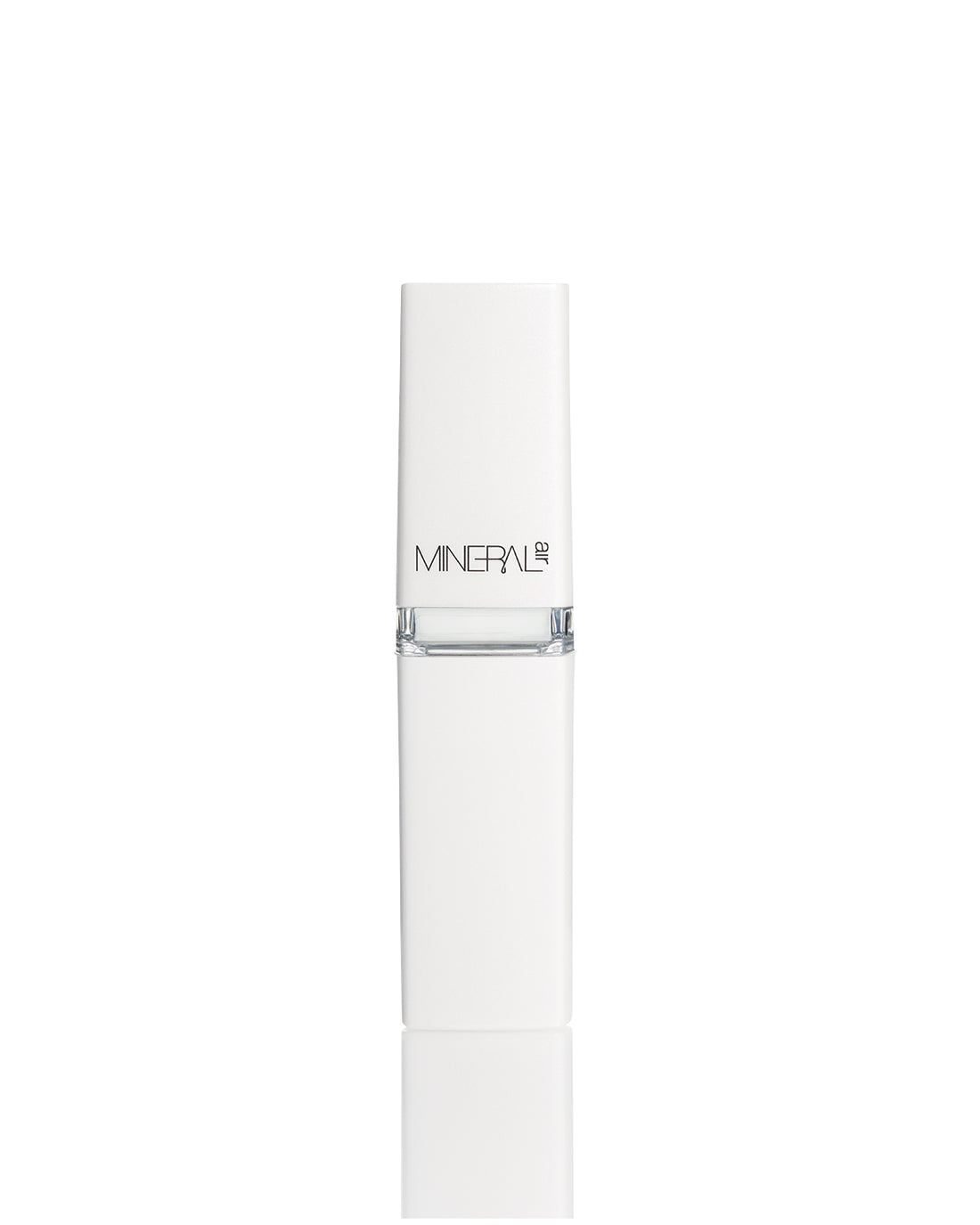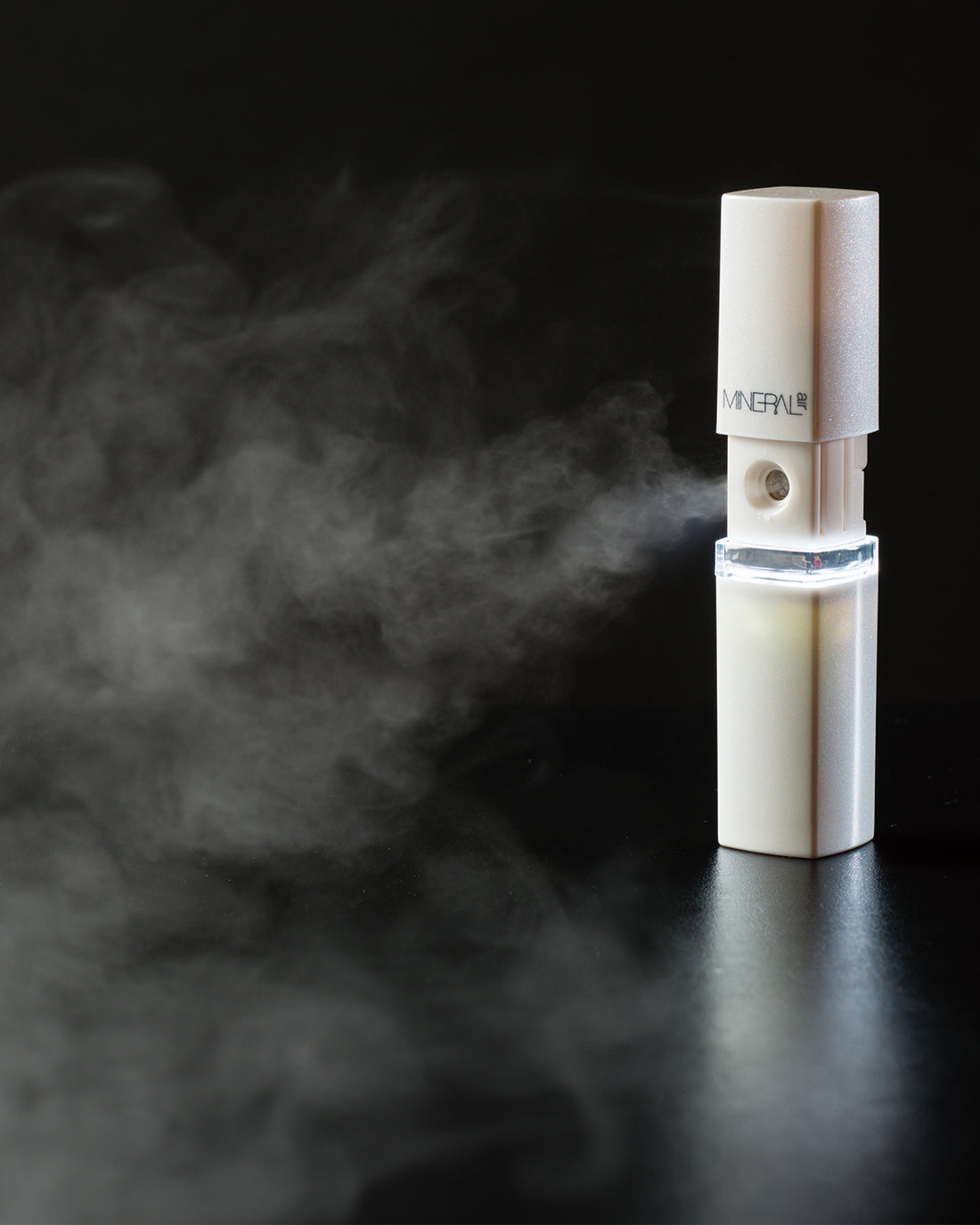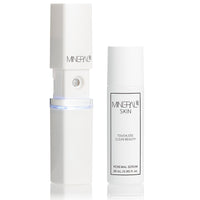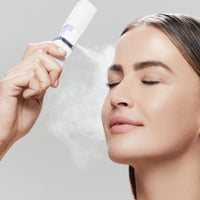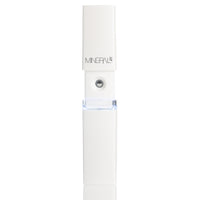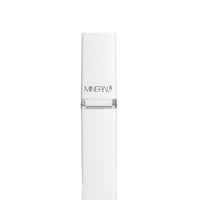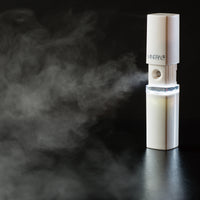 Mineral Air Renewal Serum Skincare System
Description
Product Information
READY. SLIDE. MIST.
This touchless, simple-to-use, two-piece working wonder gives you rapid response hydration for the lightest sheer glow on the go.
The hygienic quick slide ElixerMist Device delivers the luxurious Renewal Serum as vaporized micro-sized drops enabling faster, efficient absorption...and all without touching your face with your fingers.

Incredible Versatility
As makeup prep
As a daytime refresh over or under makeup
As a nighttime treatment
As a post-shave soother for gentlemen
As a rehydrator during jet travel
As an aid to facial treatment recovery

*Please note that the ElixerMist Device is an application tool for the Renewal Serum and is not designed to apply Mineral Air cosmetics. To apply Mineral Air cosmetics please use the AirMist Device.
REAL RESULTS
100% said that they saw an improvement in the appearance of wrinkles around eyes*
100% said skin felt more hydrated*
93% said skin appeared smoother*
87% said skin felt more plump*

*Results based upon 4 weeks of use in a consumer panel survey.

AT-A-GLANCE

ElixerMist Device

Breakthrough micronizing technology
Simple to use for fast, clean application
Compact 10.5 cm (4-1/4" tall)
USB rechargeable
Portable and TSA permitted
Easy to maintain, clean and refill

Serum Formula

Ultrafine hydration in seconds
Micronized for ultra-absorption
Greaseless and suitable for all skin types
Enriched with EGF and hyaluronic acid
Clean ingredients
Vegan and cruelty-free

INCLUDES
ElixerMist Device
Renewal Serum 28 ml / 0.98 fl. oz.
Micro USB Cable
Instruction Manual/Quick Start Guide

Mineral Air Renewal Serum Skincare System
Mineral Air Renewal Serum Skincare SystemMineral Air Renewal Serum Skincare SystemMineral Air Renewal Serum Skincare SystemRenewal Serum Skincare System
Renewal Serum Skincare System
$70.00

or 4 interest-free payments of $17.50 with ⓘ

Quantity
-
1
+
DESCRIPTION
REAL RESULTS
AT-A-GLANCE
INCLUDES
HOW TO USE
1. Access: After charging, gently pull the ElixerMist Device slide cap upwards to detach.
2. Fill: Flip open the tank cover to access it. Fill tank with the serum. Be careful not to fill more than the MAX line.
3. Reposition: Close the tank cover and reattach the slide cap back to its original position.
4. Prep: Slide the top section upward to activate the ElixerMist Device to start misting.
5. Apply: Hold the device 2 to 3 inches (5 to 8 cm) from skin and mist. It will automatically shut off at 30 seconds. Repeat if needed.

INGREDIENTS
RENEWING
- Oligopeptide-1 (EGF) : A plant-based peptide that jump starts skin's natural renewal process.
- Leontopodium Alpinum Callus Culture Extract (Edelweiss): A powerful smoothing antioxidant that helps combat fine lines and wrinkles.
- Malus Domestica Fruit Cell Extract (Apple Stem Cell): A natural plant stem cell that supports natural tissue repair for firmer-looking skin.

HYDRATING
- Sodium Hyaluronate: Moisturizes skin.
- Hydrolyzed Hyaluronic Acid: Boosts moisture and plumps skin.
- Aloe Vera Leaf Extract: Provides intense moisture to skin.

BRIGHTENING
- Niacinamide (Vitamin B3): A potent skin-identical ingredient that helps diminish unwanted pigment and encourages healthy tone and texture.
- Ascorbyl Glucoside (Vitamin C): A water-soluble, stabilized vitamin C derivative that provides enhanced brightening benefits.

BALANCING
- Sea Salt: A humectant mineral that helps balance oil production while maintaining moisture.
- Laminaria Japonica Extract: A seaweed extract that nourishes and moisturizes.

PURITY
Formulated without: Parabens・Mineral oil・Talc・PEG・BHT/BHA・Alcohol・Pthalates・Gluten・Synthetic dyes ・Synthetic fragrance・Petroleum-based surfactants



FULL INGREDIENTS: Water/Aqua, Pentylene Glycol, Glycerin, Hydrolyzed Hyaluronic Acid, Sodium Hyaluronate, Leontopodium Alpinum Callus Culture Extract, Malus Domestica Fruit Cell Culture Extract, Laminaria Japonica Extract, Aloe Barbadensis Leaf Extract, Oligopeptide-1, Niacinamide, Ascorbyl Glucoside, Sea Salt, Sodium Citrate, Butylene Glycol, Citric Acid, Xanthan Gum, Lecithin, Phenoxyethanol.