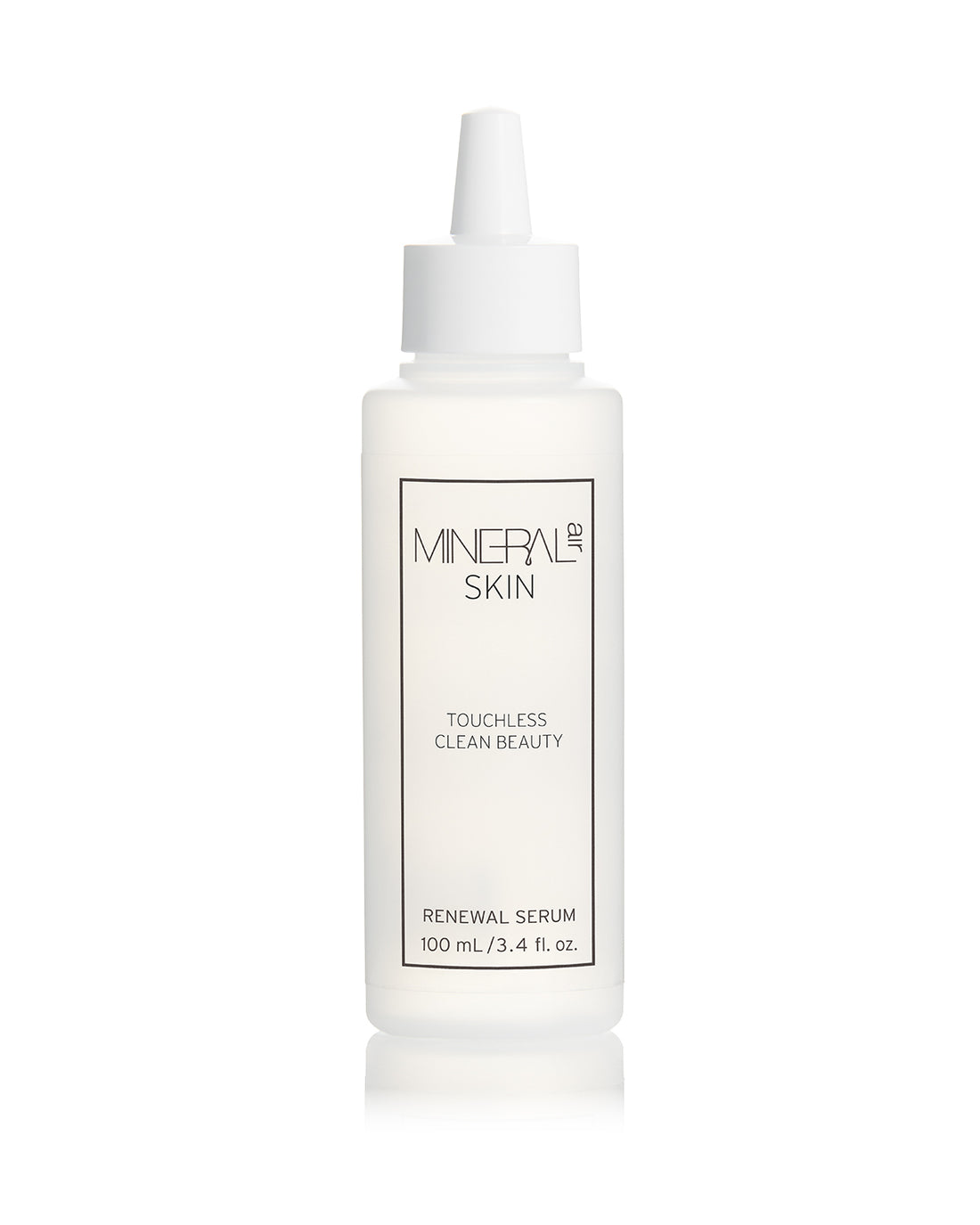 Mineral Air Renewal Serum 100ml
Description
Product Information
Specifically formulated to be used with ElixerMist Device. Used together, this touchless, simple-to-use, two-piece working wonder gives you rapid response hydration for the lightest sheer on the go.
The hygienic quick slide ElixerMist Device delivers the luxurious Renewal Serum as vaporized micro-sized drops enabling faster, efficient absorption...and all without touching your face with your fingers.

ElixerMist Device
Breakthrough micronizing technology
Simple to use for fast, clean application
Compact 10.5 cm (4-1/4" tall)
USB rechargeable
Portable and TSA permitted
Easy to maintain, clean and refill

Serum Formula
Ultrafine hydration in seconds 
Micronized for ultra-absorption
Greaseless and suitable for all skin types
Enriched with EGF and hyaluronic acid
Clean ingredients
Vegan and cruelty-free
AT-A-GLANCE
As makeup prep
As a daytime refresh over or under makeup
As a nighttime treatment
As a post-shave soother for gentlemen
As a rehydrator during jet travel
As an aid to facial treatment recovery

INCLUDES
Renewal Serum 100 ml / 3.4 fl. oz.

HOW TO USE
1. Access: After charging, gently pull the ElixerMist Device slide cap upwards to detach.
2. Fill: Flip open the tank cover to access it. Fill tank with the serum. Be careful not to fill more than the MAX line.
3. Reposition: Close the tank cover and reattach the slide cap back to its original position.
4. Prep: Slide the top section upward to activate the ElixerMist Device to start misting.
5. Apply: Hold the device 2 to 3 inches (5 to 8 c,m) from skin and mist. It will automatically shut off at 30 seconds. Repeat if needed.

INGREDIENTS
RENEWING
- Oligopeptide-1 (EGF) : A plant-based peptide that jump starts skin's natural renewal process.
- Leontopodium Alpinum Callus Culture Extract (Edelweiss): A powerful smoothing antioxidant that helps combat fine lines and wrinkles.
- Malus Domestica Fruit Cell Extract (Apple Stem Cell): A natural plant stem cell that supports natural tissue repair for firmer-looking skin.

HYDRATING
- Sodium Hyaluronate: Moisturizes skin.
- Hydrolyzed Hyaluronic Acid: Boosts moisture and plumps skin.
- Aloe Vera Leaf Extract: Provides intense moisture to skin.

BRIGHTENING
- Niacinamide (Vitamin B3): A potent skin-identical ingredient that helps diminish unwanted pigment and encourages healthy tone and texture.
- Ascorbyl Glucoside (Vitamin C): A water-soluble, stabilized vitamin C derivative that provides enhanced brightening benefits.

BALANCING
- Sea Salt: A humectant mineral that helps balance oil production while maintaining moisture.
- Laminaria Japonica Extract: A seaweed extract that nourishes and moisturizes.

PURITY
Formulated without: Parabens・Mineral oil・Talc・PEG・BHT/BHA・Alcohol・Pthalates・Gluten・Synthetic dyes ・Synthetic fragrance・Petroleum-based surfactants

FULL INGREDIENTS: Water/Aqua, Pentylene Glycol, Glycerin, Hydrolyzed Hyaluronic Acid, Sodium Hyaluronate, Leontopodium Alpinum Callus Culture Extract, Malus Domestica Fruit Cell Culture Extract, Laminaria Japonica Extract, Aloe Barbadensis Leaf Extract, Oligopeptide-1, Niacinamide, Ascorbyl Glucoside, Sea Salt, Sodium Citrate, Butylene Glycol, Citric Acid, Xanthan Gum, Lecithin, Phenoxyethanol.